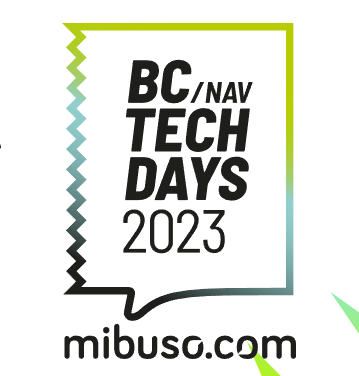 BCTechDays is over, and it's time for an (almost) traditional BCTechDays aftermath :-). A short one this time ..
What an edition is was again 😱. Too bad I simply had to spend all the time I could find to prep for my own session with Vjeko. But more on that later.
This year, it was the first edition (that I can remember) in June. This meant: summertime! And man, have we known. I have only seen bright skies (for the limited time outside) and hot temperature – and this also meant: sweaty workshop rooms 🤪. As far as I know, the reason why BCTechDays has moved to June is because of Microsoft – and personally, I do think it makes sense. It means we have Directions EMEA in a different part of the year as BCTechDays – still two of the biggest conferences in Europe.
And also, guys and girls, we are SO spoiled. We are SO SO SO spoiled when it comes to anything BCTechDays. I mean – when you decide to skip breakfast, just because you're used to getting delicious croissants, coffee, yoghurt with fruit, .. at BCTechDays anyway – or the traditional beer tasting with carefully considered beer (Luc is tasting beer all year long – talking about dedication 🤪). Not to mention the comfortable seats for sessions, the carefully selected content, to comfortable booth setup, the sodas, … BCTechDays simply delivers! Every.Single.Time! I LOVE it! We are so bleeping spoiled 🤪.
You can find all pictures of the event here: BC TechDays 2023 | Flickr. Take a glimpse, and be amazed!
For me personally, BCTechDays was a lot of work. Not that I mind (I'm the only one to blame for that), but it unfortunately means that I barely got to visit any sessions. I mean – I take this stuff seriously, and so does my partner in crime Vjeko. And so does any other speaker I have seen at the convention. Every year. Every convention.
But doing a session with 2 people, also means having to align the story, the content, the message that you want to bring across, and how you want to bring it – which takes time. Spending that time face-to-face is so much more productive, but that's difficult when you live 1500km apart. So you simply take the time when you ARE in the same location – which means – we still had to do a lot of content creation (mainly slides and "the story") during BCTechDays 🤷‍♂️. About 40 minutes before the session started, we were finished 🙈.
Session: The Power of Interfaces: Unleashing Their Full Potential in AL
Vjeko and me decided to only apply for one session this year, and this time, no "bad habits" or less serious topic with lots of "fun puns" – no – we wanted to bring a more "serious" topic we are both very passionate about. Sure, we try to keep it fun, but the content was going to be hard to swallow – we knew that – so we put a lot of thought into how and what to tell, which demos, which progress .. . I don't know if we succeeded – I'll have to wait for the results of the survey – but I sure hope so.
And boy did we feel the pressure. Not only for the many people that were telling us that they were looking forward to our session – but also because our session room was already full 15 minutes before it started 😱
If anyone was wondering – yes, we were nervous as hell – even after all these years .. 🙈.
I know people are expecting the video on YouTube, but I'm afraid I have some potentially bad news – I heard from Luc that the recording of our session is missing. They are still searching for it, but chances are we'll not be able to share the recording this year. That would be devastating :(. Also because you won't have any context with this slide 🤪
(Sorry, Vjeko, I HAD to share this one ;-))
I don't know what I will do about it – but I was planning a series of blogposts about the topic anyway. In the meantime, you can find our repository with the demo-code here, and please also pay attention to the tags we created, which kind of describes (in text and diffs) the progress of the code structure. In essence, that's the entire session 🤷‍♂️.
More about this later!
Workshops: Coding 4 Performance
I had the same workshop as last year, but I incorporated the feedback I had from last year, and included exercises. I still think these workshops are very valuable (that's why I keep offering them) and this time, I even had some people already coming back to me with feedback that they already had significant improvements thanks to the tips from the workshop. Awesome! 🙂 That's why we do it .. really! 🤩
A few days later, during the conference, there was a session about "Locking" – an ideal addition to the workshop. I wasn't able to attend the session, but I did have the chance to talk to Nikola before, and one very big takeaway was the behavior of ReadIsolation vs Locktable – I'm planning a blogpost around it, but if you can't wait – watch his session on youtube!
ALOps booth
Last, but not least, with ALOps, we were Platinum sponsor and had a booth again. What struck me most is the amount of people that were interested in getting to know ALOps, see what the evolution was, how to get started .. and .. also the beer 🤪.
I already have plans for more beers next year ;-). Just that you know.
More importantly of course was the overcrowded room for the sponsor session, and the great questions I got.
And yes, like you see, we released our "ALOps Build Agent" service (kind of like a "Build Agent as a Service"), which was very well received as well! Awesome. Thank you so much for being there!
Besides the official pictures of the event, there are some less official ones that I wanted to share with you as well ;-). Enjoy! And see you next year!