Just a small reminder for you that yet another major release has been thrown our direction: v17 aka "Business Central 2020 Release Wave 2". Old news, I know. But I blame the pandemic ;-).
I already blogged about this upcoming release, and basically the list is quite the same.
In fact, besides the official Microsoft Docs documentation, Natalie Karolak shared a smart way to filter for all new features that came out with this Wave 2 release on Microsoft Docs:
https://docs.microsoft.com/en-us/search/?terms=%22APPLIES%20TO%3A%20Business%20Central%202020%20release%20wave%202%20and%20later%22&scope=BusinessCentral&category=Documentation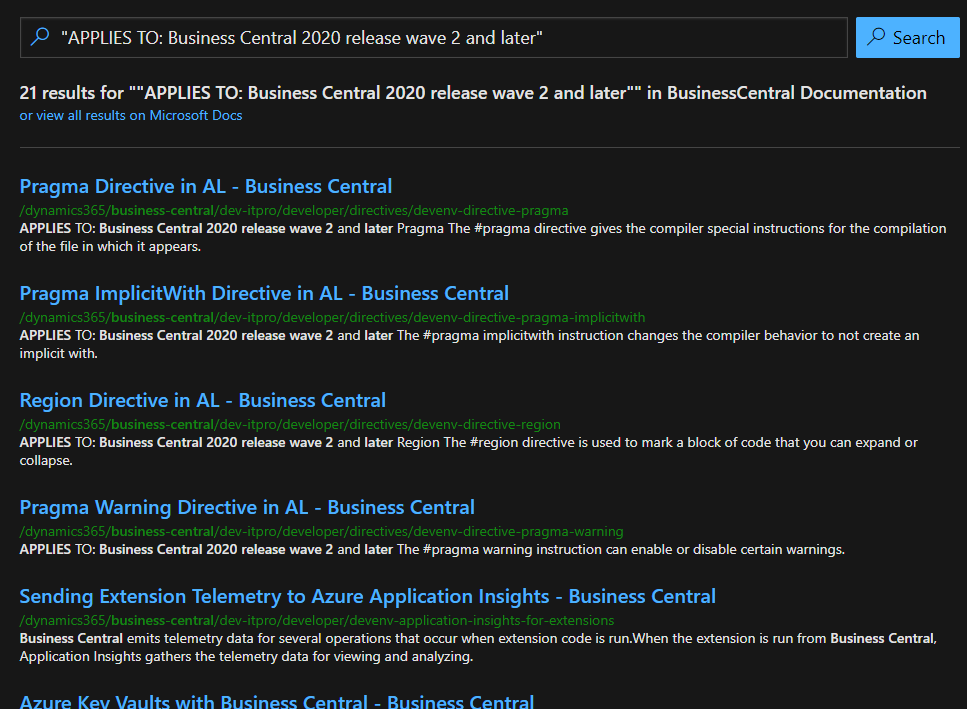 And there are a few features that I really would like to emphasize, because I think they didn't get too much attention before – and some of them came as a surprise to me:
New TableType property
Now you will be actually make sure certain tables are used as temporary tables. Cool!
Creating Custom Telemetry Traces for Application Insights Monitoring
This is one that we will use a lot, I think. I'm going to look into whether this is interesting to add in my snippets, to "by default" have logging for each method.
Using Partial Records
A way to get rid of always reading all fields – which also will have a positive impact on table extensions as well – remember James Crowter's blog? Now it'll be a matter of getting these best practices to the common development principles of all developers.. .
Using Key Vault Secrets in Business Central Extensions
Interesting! Especially when you have secrets that you need to manage over multiple extensions – you can now set it up in the app.json, let all tenants, customers, apps, whatever, point to one or more keyvaults, and manage the secrets centrally. Super!
New system fields: Data audit fields
Finally we have "Created At/By" fields and "Modified At/By" fields out-of-the-box for every table/record! Managed by the system. This appeared to be already in my list on my previous blog – but for some reason, I didn't catch it as being interesting 🤔. But it sure is, in fact!
You might wonder, what is Microsoft doing to announce and present this new release? Well, like in Spring, we'll have yet another…
Virtual Conference
Makes sense, obviously! But in some way, I couldn't really find a lot of attention to it. I asked around in my company, and nobody really knew that it was happening. And not only that – it's happening soon! October 21st! So be fast, and make sure to register (for free) here: http://aka.ms/MSDyn365BCLaunchEvent
And this is the agenda:
Erik Hougaard
I'd like to conclude with the video of Erik Hougaard about the "what's new with AL in v17". An interesting approach to find out about new features ;-).
If you're not subscribed to his channel yet – well – it's about time ;-).
As said, this was going to be a small announcement – enjoy this new release! I'm already enjoying it, by fixing all the next CodeCop rules in the compiler (and that's not just the "with"-stuff) 😉 .. resulting in about +4500 changed files.. what can I say .. .